BARE KNUCKLE

From the mind of David Tianga comes a new television pilot set in the gritty underworld of bare knuckle boxing in Brooklyn, New York. There will be blood, guts, and money won and lost.
Recently released from prison, aspiring boxer Jack Crespo will stop at nothing to reunite with his daughter Lulu and become a "legitimate" champ. He knows he is destined to achieve his dreams, as long as he can stay out of the family business, underground bare knuckle boxing. With his ambitious promoter brother Pete and his dead beat father Freddie on his back, that proves harder than expected. Jack will soon find himself not only fighting for his future, but for the future of the whole Crespo clan.


SIGNED ON!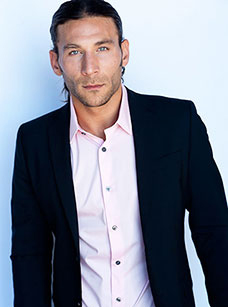 ZACH McGOWAN
Jack Crespo
Featured on Showtime's Hit Show SHAMELESS as the character of Jodi.
SYNOPSIS
Even though half-brothers Pete and Jack Crespo both hate their abusive father Freddie, they cannot deny that he has been a fierce warrior inside and outside the ring for most of his life. Pete is trying to escape from under his father's dark shadow by making his underground bare knuckle boxing business profitable so he never has to bow down to anyone. Pete wants to do it big and more importantly, on his own terms. The problem is he is in debt to Italian mobsters and his inability to change with the times is causing his business to decline. Pete sees an opportunity to make big bucks when Jack gets out of jail. Jack is the fiercest boxer to come out of Brooklyn since Freddie was his age. Unfortunately for Pete, Jack doesn't want to fight in the underground, he wants what his father never had, a "legitimate" championship belt. The way Jack sees it, all he needs to do is train hard, keep on the straight and narrow, and be a good father to his daughter Lulu. In order to create the family he never had, he must battle Lulu's very wealthy and uber-controlling maternal grandparents, as well as convince her flighty mother that he can be the provider she needs. Jack is up for the fight, but he knows to win he will need lawyers and lawyers require money, lots of it. With his job prospects as an ex-con being slim to none, Jack is forced to make a decision: will he give in to the temptation of fast money with his brother or stay on the straight path and risk never seeing his daughter again. The brothers have the potential to help each other make their dreams come true if they can keep their diverging paths from destroying both of their worlds. Bare Knuckle is The Brotherhood and Lights Out rolled into one tantalizing hour filled with drama of biblical proportions. Family, respect, love, blood and money will all be at stake when the bell rings. Whoever is willing to put it all on the line will come out victorious.